Editorial Review & Wine Ramblings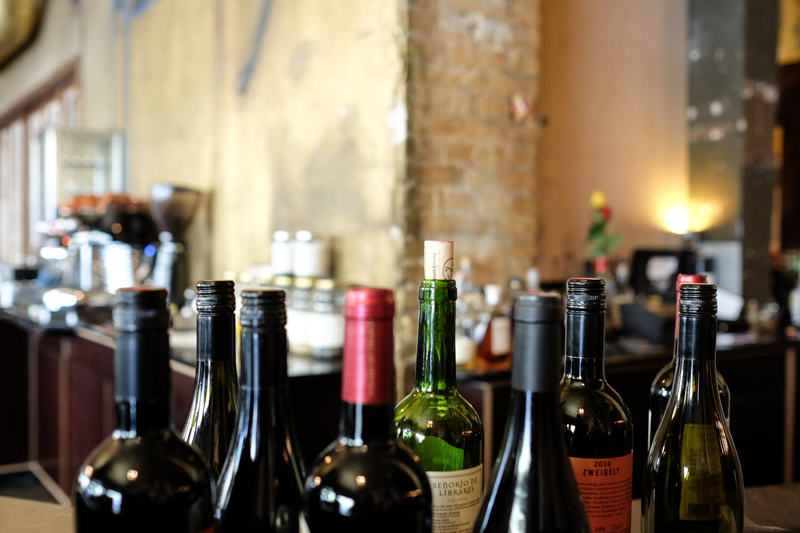 Quarterly Editorial Reviews of content on http://www.bellaonline.com/site/wine. Also, wine ramblings by the editor.
7 Weird Winemaking Tricks


Giant egg, ice, rot, micro-sheep, cowhorns and music are some of the weird techniques used by grape growers and winemakers in their quest to make unforgettable wine. Peter F May looks at seven of them
7 Wine Facts


Here are seven facts about wine, says Peter F May.
About Wine Labels


How would you choose wine if bottles didn't have labels? Surprisingly wine labels are fairly new. Peter F May looks at how they came about and why wineries started bottling their own wines and how we seem to be going back to old ways.
American Theme Wine Quiz


Fun wine quiz with an American Theme. No pressure, no prizes, just the glory, and maybe some factoids you can use to impress friends.
American Wine Society


The American Wine Society was started 45 years ago. Peter F May looks at this non-profit wine enthusiasts organisation and reveals he will be speaking at its November annual conference.
Apothic Red Blend


Why are we fixated on single varietal wines, ponders Peter F May and he samples Apothic Red, a new California blend.
Back Label Turn-Offs


Some common descriptive words on wine back labels are a no-no it seems, and why are food suggestions getting so weird, asks Peter F May
Banned Wine Labels


Wine labels are strictly regulated but sometimes wineries fall foul of authorities who ban labels for artistic reasons. Peter F May discusses banned labels.
Barrels, Bottles and how the Butler got his name


Only the best wines will be served when world famous opera diva Dame Nellie Melba comes to sing at Downton Abbey. But Peter F May is not convinced by the wine's labels.
Can Wine Taste of Minerals?


Ever been at a tasting when someone recognises a flavour of the limestone or slate the grapes are planted on? Science says that's impossible, but Peter F May has an explanation.
Can you tell Cheap Wine from Expensive?


A recent experiment has led researchers to claim that people cannot tell the difference between expensive and cheap wines, but it is not so easy, says Peter F May
Ch Latour Quits Futures Market


There is excitement in the fine wine business after Chateau Latour announced it was pulling out of the long-established 'En Primeur' (or 'futures') system of selling wine, says Peter F May.
Choosing a Corkscrew


When choosing a corkscrew the screw is the most important component. Peter F May compares them
Closing the Bottle


For more than 200 years cork had been the de-facto closure for wine, says Peter F May, but today wineries have alternatives
Cola Wine


The launch of a cola flavoured red wine in France took the world by surprise, but Peter F May says that diluting and flavouring wine is nothing new.
Collecting Wine Labels


Collecting wine labels can help you remember wines, meals and events you've enjoyed, says Peter F May.
Cooking with Grapes


A New York grape pie started Peter F May pondering why we don't use this fruit more in cooking.
Critter Wines


Faced with a shelf of wines a bright label and picture attracts attention. Peter F May looks at labels with animal pictures - the so called 'critter wines'.
Delheim Winery, South Africa


Delheim is a pioneering family owned winery in Stellenbosch, South Africa. For many years they have had a well deserved reputation for quality wines but sixty years ago they would have gone bust had not a complaint led to its most famous wine which saved the winery.
Do You BYO - Bring Your Own Wine?


Do you BYO? Have you asked a restaurant whether you can bring in your own wine? Peter F May often takes in his own wine when allowed.
Fake Wines


It is not common but wines at all price levels have been faked. Peter F May considers some recent cases.
Gifts for Wine Lovers


Finding gifts for a wine lover is easy: there are many gadgets and an almost limitless choice of wines. But choosing a gift that the recipient will appreciate is a lot more difficult. Peter F May has some ideas.
Historic Rootstock Vineyard Discovered


A tangle of canes in a forgotten South African field turned out to be a long-lost historic rootstock vineyard. Peter F May visited Anton Nel who discovered its history and has plans for its future.
How did Mission Survive in America?


How could the European grape variety Mission be planted and survive in the Americas when it's home to phylloxera? It was phylloxera on American vines taken to Europe in the late 1800s that destroyed Europe's vineyards and then spread around the world.
How to Remove Wine Labels


A collection of wine labels can be a reminder of past wines and times. But how do you get them off the bottle? Peter F May give some suggestions.
Is Varietal Name Enough?


Varietal labelling seemed to make much more sense than the old European way of naming wines after the places they were grown. But Peter F May is now reconsidering whether the old-timers were right all along.
La Flute Corkscrew Review


Where do you keep your corkscrew? Chances are that it is tucked away in a drawer in the kitchen. La Flute is a new corkscrew designed with aesthetics in mind and it is meant to be put on display when not in use. But Peter F May queries whether looks are more important than function.
Labels, Temperature, Eggs, Milk and Fish


What is the ideal temperature to serve wine, selling wine label collections and why their is a warning that wine contains eggs, milk and fish are all questions Peter F May has recently answered.
Ladybird/bug Beetle Taint in Burgundy?


Burgundy expert Bill Nanson thinks that some recent vintages have been tainted by ladybird/bug beetles. Peter F May takes a master-class, listens to the arguments and tastes the evidence.
Mimosa, Kir, Bellini and Bucks Fizz


Wine is delicious on its own, but sometimes it is great to make a longer drink by adding orange juice or to sweeten with liqueur or peach puree. Peter F May looks at some wine based cocktails that have become world famous.
Mix Your Own Wine


It is now fashionable to mix your wines at dinner parties. And why not? It's what winemakers do, says Peter F May.
Old Wine - How much is that bottle worth?


How much is an bottle of old wine worth? Peter F May explains what factors affect an old bottle's worth.
Parker's Godforsaken Grapes


Famous and influential wine critic Robert Parker, the influential has blasted those who plant, grow and promote grape varieties that aren't already popular. Needless to say, Peter F May doesn't agree.
Should you Age Wines?


Should you keep wines for years? Peter F May says that more wines are drunk too old than when they are too young.
Sideways - The Play


The movie Sideways was a great hit but Rex Pickett,author of the source novel wanted to take back control of his story and wrote a play. Peter F May saw its European premiere
Sour Grapes - Movie Review


Sour Grapes is fast paced movie about a multi-million dollar scam in rare old wines, and how a tenacious band of wine lovers turned sleuths to reveal the truth. Peter F May watched in amazement aa people paying the price of a luxury car for one wine bottle didn't even 'kick the tyres'.
Spice Route Winery, South Africa


Spice Route is a new winery attraction near Cape Town, and there is much more to see and taste than wines. Peter F May enjoyed tasting artisan chocolates and the breathtaking views.
Storing Wine at Home


You don't need to worry about storing wine at home. Peter F May answers your question on the subject.
Tackling a Football Wine


For years Peter F May has advised that cheap supermarket wines are not worth keeping. Then TV proved him wrong.
Tasting Groups


The best way to learn about wine is to taste as much as you can, says Peter F May. And the best way to do this is to join a tasting group
Temptation of a Wine Lover


Château Lafite-Rothschild is one of the world's greatest wines. Peter F May was offered a bottle of the 1986 vintage with lunch, so why did he resist temptation?
Three Wine Maxims Explored


There are many maxims about wine. Peter F May considers three of them.
Valuing Old Wine


How do you find the value of an old wine? Peter F May gives some tips.
Vineyard Drones


Vineyards today are surprisingly high tech. Peter F May reveals that remote control drones are just the latest the latest technological tool.
Vineyards Sweet Surprise


An old book alerts Peter F May to a caring French tradition and then he speaks to modern winemakers and finds it seems the French were not alone.
When helicopters make wine


Helicopters can sometimes make the difference between a great wine and disaster. Peter F May explains why and when the whirlybirds are called into action.
Which Wine Glass Do I Use?


Does the glass you use to drink wine affect its taste? Peter F May ponders the implications.
Why Wine Labels Have a Variety Name


Wine labels tell consumers about what is inside the bottle. Peter F May looks as how varietal labelling came to be all important.
Wihy is Wine Being Made Everywhere?


Wine is being made in unexpected places. Peter F May ponders why regions not traditionally associated with wine growing are now enthusiastically planting grape vines.
Wine De-Mystified - Course Review


Master Sommelier Keith Goldston has a new online course 'Wine De-mystified: A Practical Guide'. Peter F May enrols to see if he can tell Claret from Bordeaux. There is a 40% discount on the cost of the course for readers of this article.
Wine Newsletter


Enjoy articles and reviews about one of our favorite things...Wine!
Wine Quiz


Five wine related questions. No pressure, no prizes but can you answer them? Peter F May dons his question master's hat.
Wine Sustainability World First for South Africa


Look out for a new sticker appearing on South African wines that certify the wine has been grown and made sustainably, says Peter F May
Wine's Supporting Acts


They're the unappreciated wines ignored by most, they're the varieties you've not heard of & those known only when grown elsewhere. Peter F May looks at the Chablis that isn't Chardonnay, Burgundy's other white grape, and California's 5th most grown black wine grape that you've never ever heard of.
Wines for a Fifty Shades Dinner


Fifty Shades Freed brings a happy ending to the Trilogy. After looking at wines in the book, Peter F May considers wine choices throughout the Trilogy and suggests a menu for those wanting to host a Fifty Shades Dinner matching wines and foods most frequently enjoyed by Anastasia and Christian.
Wines in Fifty Shades of Grey


Fifty Shades of Grey is a publishing sensation and wines mentioned in it are getting attention from fans who want to eat and drink as well as read. Peter F May looks at wines and food featured in the book and proposes candidates where the author has not named the exact wine.
Wines of Fifty Shades Darker


Fifty Shades Darker by E L James is her sequel to her world-wide best selling Fifty Shades of Grey. Peter F May looks at the foods and wines consumed by the unconventional young lovers.
Writing About Wine


There is a lot of misinformation about wine on the web so how do you know who to trust? Peter F May explains why he thinks he is qualified for the position of BellaOnline's Wine Editor
YellowTail and Social Media


Yellow Tail's new wine used social media to choose its name and for marketing. But what's in it for us?
Editor's Picks Articles
Top Ten Articles
Previous Features
Site Map
Content copyright © 2018 by . All rights reserved.
This content was written by . If you wish to use this content in any manner, you need written permission.
Contact Peter F May for details.