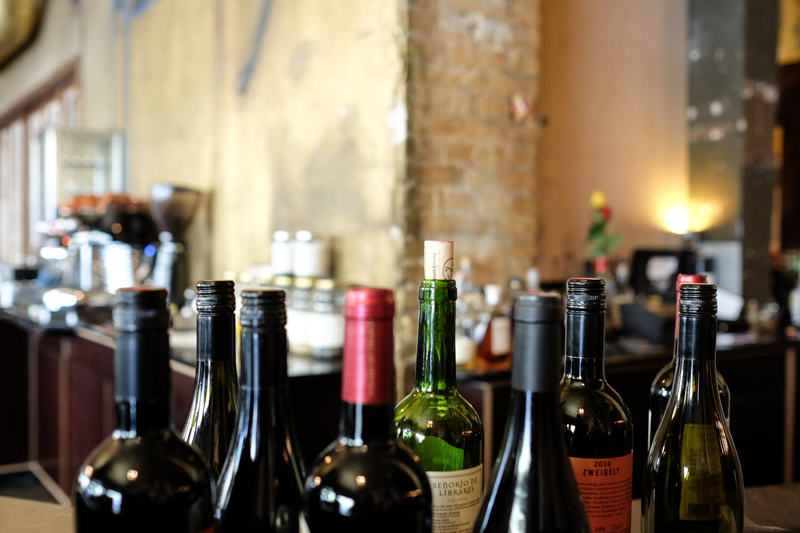 All about making wine
Biodynamic Producer Johan Reyneke


When Johan Reyneke took over responsibility for his family's vineyards he did something no-one in the country had ever done. Peter F May meets the first biodynamic farmer in South Africa.
Alternative Woods to Oak Barrels


Oak is the standard wood used for wine barrels, but winemakers are experimenting with alternatives, says Peter F May. Two wineries have discovered that by using certain woods they can avoid having to add sulphites to their wine.
Attitudes to Closures


What your wine is closed with and what you think of corks, screwcaps and synthetics depends a lot on where you are. Peter F May has been looking at some recent surveys of American, Australian and British wine drinkers.
Barrels - Why are they used?


Wooden barrels were once the standard goods container. Nowadays you'll only likely to see them in a winery. Peter F May asked today's winemakers why they still used this archaic reminder of the past.
Biodynamic Producers Benziger and Boulard


Benziger Family Winery was one of the first in the USA to get Biodynamic Certification. The Boulard family has been growing grapes for more than 200 years and now Francis Boulard has converted to Biodynamic farming. Peter F May travels to California and Champagne to visit their vineyards
Blending Sauvignon at Wither Hills Winery


Wither Hills Sauvignon Blanc comes from 13 different vineyards. Peter F May discovers the art of blending wines with a hands-on experience at the winery in Marlborough, New Zealand.
Blending Wine Varieties Makes Sense


There are several advantages to making wines from a blend of varieties, says Peter F May
Blood in Wine?


A recurring story going the rounds holds that blood products are found in wine, worrying for mad-cow disease reasons and distasteful for vegetarians. Peter F May looks at the facts.
Does Wine Really Contain Milk, Eggs and Fish?


New allergy warnings are appearing on wine labels. Many drinkers will be astonished to read their wine contains milk, eggs or fish. But Peter F May says 'phooey'.
How Wine Is Made


Do you know how wine is made? This non-technical article describes the journey from grape vines to the liquid in your glass, and why one grape species is favoured.
In the Pink with Rose Wines


Summer is when thoughts turn to wines neither red nor white but in-between. From the palest ethereal pink through deeper hues to almost red, or orange these wines look beautiful in the glass. They're served chilled, like a white wine but have a bit more body to them.
Oak Doesn't Always Mean Barrels


Aging red wines on oak barrels is a sign of quality, says Peter F May, but a wine boasting of 'well integrated oak' or 'oak treatment' probably hasn't even seen a barrel.
Pink and Rosé wines and White Zinfandel


Pink wines, also known by the French term rosé have become fashionable in the past few years, Peter F May looks at how they are made and remembers the origin of White Zinfandel.
Pruning in the Vineyard


One of the most important vineyard jobs is pruning. Peter F May goes into the cold to wield his shears.
Same label but different wine


Wineries sometimes produce different batches of wine under the same label. If you read a review of a wine that impresses you enough to go out and buy it and you are disappointed when you taste the wine it may be because you have tasted a different wine. Peter F May explains why this happens.
Smoky Tastes in Wine


What causes that smoky taste found in some wines? South African red wines are often noted as smoky by reviewers. The cause has been put down to local soils or winemaking practises. But the actual reason appears to be much simpler and, with hindsight, obvious. And it's avoidable.
Temperature and Wine


Temperature and wine have an intimate relationship. The most misunderstood wine 'fact' is that red wine must be served at room temperature but temperature affects the final taste of wine long before it is poured. Peter F May investigates.
Vin de Francois - A Remarkable Wine


Vin de Francois is a remarkable wine. It's a blend of wines from the best barrels chosen from several top wineries. Peter F May was lucky enough to get his hands on one.
Waking Up Chardonnay


Peter F May had never heard of Waking Up Chardonnay until winemaker tells him that it is one of those ancient practises that modern wineries are rediscovering and adopting.
What is Biodynamic Wine?


What makes a wine 'biodynamic'? Peter F May looks at a semi-mystical farming practise being adopted by wine growers.
What is Carbonic Maceration?


Carbonic Maceration is a winemaking process used to produce fruity light red wines with little tannin. Peter F May learns what it means and what happens during Carbonic Maceration that from winemaker Josh Rude in Oregon's Willamette Valley.
What is Cold Soak?


Cold Soak is a phrase you hear winemakers casually throw out but many wine lovers aren't too clear about what it actually means. So Peter F May was keen to get the low down from Oregon winemaker Josh Rude.
What is Orange Wine?


What is Orange Wine? Or –– Orange is the new White! The choice has been red or white or pink, but increasingly now there's a new colour to add to your palate's palette. Peter F May gets to grip with a white wine that wants to be red and ends up orange!
What is Wild Fermentation?


Combine more competition among wine makers, abundant harvests, lower consumption, and you have an enophiles dream--quality wine at lower prices!
Where Wine Yeast Comes From


We rarely acknowledge the part yeast plays in the taste of our wines, but it is a vital tool in the winemakers armoury. Peter F May follows scientists tracking down wild yeasts and taming them.
Why Old Vines Make Better Wines


Old Vines make better wine, so they say but what is it that make old vines special? Peter F May asks a leading winemaker that very question.
Winery Robots


Barrels and grapes are about the only constants, says Peter F May. Machines are taking over in the winery and nothing is weirder than seeing a line of robot feet tramping towards you.
Wines Secret Ingredient


The label may say Cabernet Sauvignon or Chardonnay but legally the bottle doesn't have to contain 100% of that variety. Peter F May looks into why there's often a secret ingredient.
Editor's Picks Articles
Top Ten Articles
Previous Features
Site Map
Content copyright © 2018 by . All rights reserved.
This content was written by . If you wish to use this content in any manner, you need written permission.
Contact Peter F May for details.