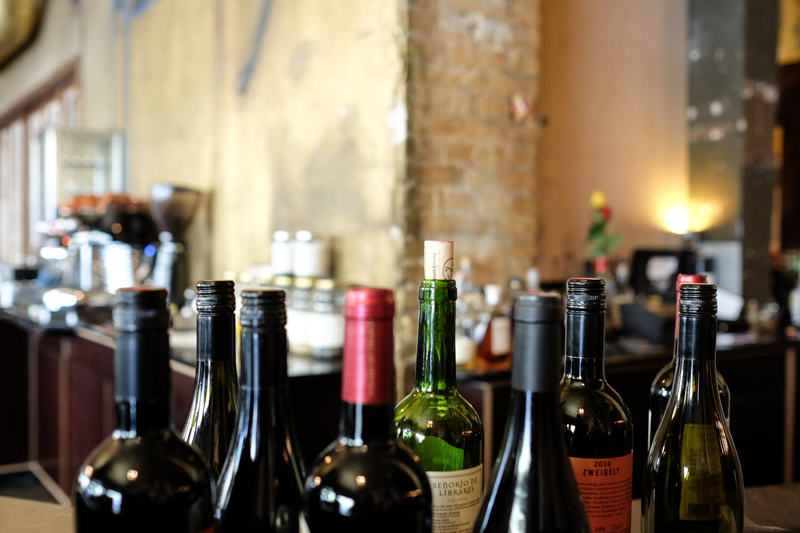 Reviews of wine books
History of Virginia Wines - Book Review


Review of 'A History of Virginia Wines from Grapes to Glass' by Walker Elliott Rowe. Peter F May is enthralled by a detailed look at Virginia wine today and yesterday.
Australian Wine Walkabout - Book Review


Australian Wine Walkabout is a charming readable account of Australian wine personalities and their wines, says Peter F May. Written by David Copp who has been in the wine business for fifty years, this is no text book but a conversational account based on Copp's visits downunder.
Beyond Jefferson's Vines - Book Review


Virginia is the happening place in American winemaking, says Peter F May. Whether you're going to visit Virginia or want to get up-to-date with this most exciting of American wine regions, Richard Leahy's 'Beyond Jefferson's Vines' is an essential read. .
Book Review: Dial M for Merlot


'Dial M for Merlot' is a Carl Hiaasen type of caper with larger than life characters and a just-about believable plot. Peter F May poured himself a glass of wine and settled down to read
Broke the Grape's Joy - Book Review


Broke the Grape's Joy is a heartwarming bitter-sweet novel of a middle-aged widow running an about-to-go broke St Emilion winery. Into her life comes an older man and a beautiful young girl. They will change her life but who can she trust?
Buy the Right Wine Every Time - Book Review


Here's a wine guide for novices that won't go out of date. Peter F May reviews a book that helps novices find wines they'll like in supermarkets and then go on to find better quality wines with similar tastes.
Death at Chateau Bremont - Book Review


Death at the Chateau Bremont, by M. L. Longworth is a mystery set in the south of France, land of good food and wines. Peter F May investigates.
Finger Lakes Wine and Dr Konstantin Frank


Dr Frank proved that classic vinifera wine grapes could succeed in the cold of north east America. 'Finger Lakes Wine and the Legacy of Dr Konstantin Frank' by Tom Russ is primarily the biography of Dr Frank, and his family from before his birth to after his death in 1985.
French Wine Odyssey - DVD review


An unusual gift for the winelover, Peter F May views Mick Rock's DVD of stunning photographs of French winelands and wineries.
I'll Drink to That - Book Review


When Georges Duboeuf was 18 he made a bicycle ride that would change his life, improve the lives of his neighbours and elevate the wines they made to be world famous. Peter F May reviews a charming book that tells how Beaujolais became the most recognised wine name after Champagne.
In Search of Bacchus -- Book Review


George Taber's third wine book is a tour through twelve of the worlds most exciting wine regions, but Peter F May thinks he may have lost his way.
Insider's Guide to Champagne - Book Review


"The Insider's Guide to Champagne – Everything you should know about Champagne, but nobody tells you" is an eBook by Jiles Hanning who lives in the region and for ten years worked for Moet et Chandon at their head office. The book is reviewed by Peter F May
Keep Notes to Learn About Wine


The best way to learn about wine is to experience as much as you can and to keep notes. Peter F May considers the ways and reviews The Wine Journal, a book in which to record your impressions of wines.
Madeira Wines - Book Review


A beautiful new colour book about Madeira wines confounds expectations by containing detailed information.
Oldman's Brave New World of Wine – Book Review


Mark Oldman's exuberant ebullient new book -- Oldman's Brave New World of Wine –- aims to lead wine drinkers from their comfort zone and explore some less familiar wines that offer good value and great tasting experiences.
The Initiates - Book Review


A comic artist spends a year learning how to grow and make wine with a small artisanal wine farmer whose wines score 90+ Parker points. The result is this charming graphic book of naturalistic drawings, says Peter F May.
The Wild Vine: Book Review


The Wild Vine – A Forgotten Grape and the Untold Story of American Wine by Todd Kliman tells the story of Norton, America's forgotten grape. Also known as Cynthiana, Norton was once an important variety. Peter F May was enthralled.
Vineyard at End of World - Book Review


In 'The Vineyard at the End of the World: Maverick Winemakers and the Rebirth of Malbec' Ian Mount recounts 500 years of wine in Argentina, with emphasis on recent times and those responsible for changing a moribund industry and making an unfashionable grape variety a flagship for their country.
Voodoo Vintners - Book Review


Wines described as Biodynamic are appearing on shelves but what does that really mean? Peter F May has a much better idea after reading Katherine Cole's short informative and enjoyable book Voodoo Vintners - Oregon's Astonishing Biodynamic Winegrowers
What Would Jesus Drink? - Book Review


In 'Would Jesus Drink?' Joel McDurmon takes to task those who interpret the bible as forbidding alcohol. Using bible references he demolishes the arguments of the prohibitionists and shows God wants man to enjoy wine, beer and strong spirits in moderation.
When the Rivers Ran Red - Book Review


Can you imagine living in a country where you can't buy a beer or get a glass of wine with your restaurant dinner? Peter F May reads Vivienne Sosnowski's fascinating tales of how California's grape growers and wineries survived during the fourteen terrible years of Prohibition.
Wine Grapes - Book Review


Jancis Robinson's long waited book on grape vines is out and it is huge covering 1400 grape varieties in 1300 pages. DNA evidence has revolutionised grape identification and this book has original research and the latest information. Peter F May has been enthralled with it.
Wine Slinger Chronicles - Book Review


Russ Kane travelled throughout Texas visiting wineries and vineyards to write this most readable account. Peter F May found his tales of the people he met and the places he visited unputdownable.
Wineries of the Finger Lakes - Book Review


Wineries of the Finger Lakes Region: The Heart of New York State by Emerson C. Klees. Esssential guide to this upcoming region or just nice to have, asks Peter F May
Zinfandel A History - Book Review


This must be the definitive book about a very much appreciated American grape. Sullivan is an enthusiast about the Zinfandel variety says Peter F May
Editor's Picks Articles
Top Ten Articles
Previous Features
Site Map
Content copyright © 2018 by . All rights reserved.
This content was written by . If you wish to use this content in any manner, you need written permission.
Contact Peter F May for details.