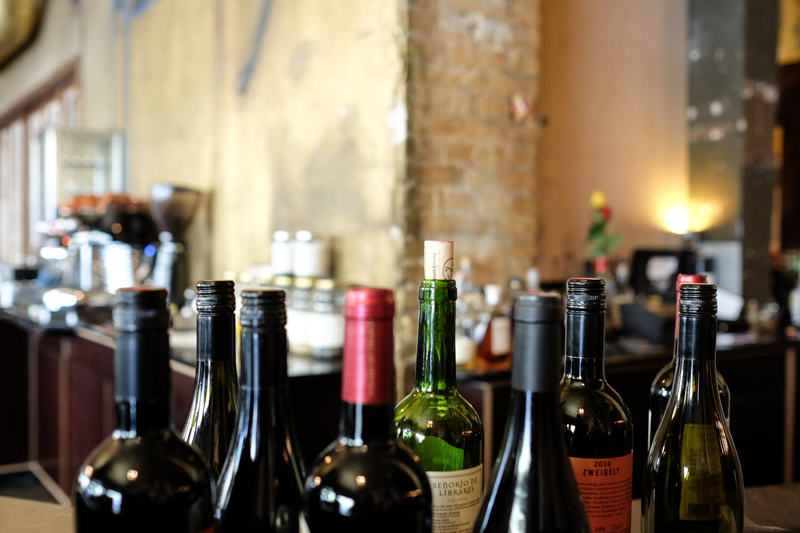 These articles provide over views of various grapes and the wines they produce.
Syrah, Shiraz, Gruner Veltliner and family


Austria's white Grüner Veltliner is becoming increaingly popular and Syrah-Shiraz has many fans. Peter F May was surprised to find they are related, learns about their parents, and tastes the very first varietal Dureza at a Masterclass presentd by the authors of Wine Grapes
Beating the Leaf Destroyer


Vineyards across the world were being destroyed by Phylloxera but a remedy had been discovered. But could farmers be persuaded to change the ways grapes had been grown for 10,000 years?
Cabernet labrusco - Making a New Grape Variety


After twenty years Jerry Rodrigues drank the fruits of his long project. In his glass was the worlds first vintage of a brand new grape variety he named Cabernet Labrusco. He talked about his work to to Peter F May.
Chardonnay


Chardonnay makes the world's most popular white wines. Peter F May explains why it is also a favourite with grape growers and winemakers.
Chardonnay Revelation


An almost extinct grape is the parent of Chardonnay and some of the world's most famous varieties. Peter F May tracked it down in Australia.
Chenin Blanc - a versatile grape


Chenin Blanc is a versatile grape that makes attractive wines in many styles. It is currently underrated but it is beginning to get attention, and deservedly so.
Chenin Blanc - a Versatile Wine Grape


Chenin Blanc is a white grape variety that makes reliable and sometimes stunning wines at reasonable prices, and yet it is unfashionable, says Peter F May.
Cloudy Col Fondo Rides Prosecco Sales Surge


The Italian sparkling wine Prosecco has quickly become very popular and even impacted sales of Champagne. But would you drink a cloudy Prosecco? Peter F May looks at Prosecco and admires the cunning coup played by Italy to own the Prosecco name.
Concord wine


Concord is a native American grape that is used for juices, jellies and wine. The wines are rarely seen outside their home but Peter F May was able to taste one in London.
Defeating the Leaf Destroyer


Vines were dying throughout France and the malady called Phylloxera had spread across borders. Unless a remedy could be found there would be no more wine. The French Government advertised a large cash prize for solutions, and they received thousands. But how many were any use?
Farewell to Pontac


Pontac is a rare ancient grape variety whose unusual red juice was used to deter baboons in South Africa. Peter F May opens his last bottle and regrets there is no more to buy.
Good Wines from Poor Soil


Vines planted in poor growing conditions produce good wines. Peter F May explains why.
Grapes and Vines


Eating seedless grapes gets Peter F May thinking about where wine grape come from
Invasion of the Leaf Destroyer


When M. Borty planted some vines he's received as a gift he set in motion a disaster that completely changed how grapes had been grown for the previoius 10,000 years.
Italian White Wines


Explore Italy through these great whites.
Malbec World Day


April 17th is celebrated as Malbec World Day. Peter F May visited London's Gaucho Argentinian Steak restaurant to learn about Argentinean Malbec from Phil Crozier, Gaucho's Director of Wine.
Mourvedre and Mataro - two names for the same wine


Mourvedre is also known as Mataro and it is a grape few wine drinkers had ever heard of but now it is becoming fashionable. Peter F May considers the variety known by the French as the 'Dog-Strangler'.
Munson Memorial Vineyard, Denison, Texas


The Munson Memorial Vineyard in Denison, Texas, commemorates the Texan who saved the world's wines. Peter F May travels to Denison and gets a personal guided tour of the vineyard.
Norton, The American Wine


Norton is a true American grape variety because it originated in America rather than being brought from Europe. And, rarely for a native American grape variety, it makes an excellent wine, says Peter F May
Petite Sirah Pleases


Choosing wines for his club's dinner dance, Peter F may suggested less mainsream wines with each one coming from a different country. The most popular wine turned out to be from California and it was variety few had previously encountered.
Pinot Noir - The Heartbreak Grape


What is it about Pinot Noir that makes it special? This ancient variety tempts and allures. Peter F May thinks that clones are the key to understanding it.
Pinot Noir Clones


Even within the same grape variety there can be big differences in the wines produced that have nothing to do with how they were made or where the grapes were grown but how the vine has mutated over time. Peter F May experiences four different Pinot Noir clones in Oregon.
Romance of Grape Picking


What could be more bucolic than picking grapes? A chance to get back to simpler times, admire beautiful scenery and maybe enjoy a glass or two of the previous vintage. So why did Peter F May decline this romantic opportunity?
Searching Texas for Munson


T V Munson was the Texan who saved the worlds wines. Peter F May travels to Denison, Texas in search of the vineyard planted in his honour.
Secrets of Jacquez, Black Spanish and Lenoir


MJacquez is an old grape variety that few have heard of, but it has played an important role in at least three areas. Now DNA testing has revealed new information about its origins that may have a great impact on today's viticulture.
T V Munson - Wine's Saviour


Thomas Volney Munson (1843-1913) was a nurseryman, grape vine breeder, author, holder of the Legion d'Honneur (France's highest honour), and saviour of the world's wines. Peter F May tells how a French delegation visited Denison, Texas, to beg Munson's help in saving the world's wines.
Tasting the World's Rarest Wine


When in South Africa Peter F May visits Jerry Rodrigues who has single handedly created a new wine grape variety.
Tempranillo - Tomorrow's Wine


Looking into his crystal ball for future wine trends Peter F May forecasts that soon we will all be drinking New World Tempranillo.
The Grape Detective - Tracing Danugue


When Jerry Rodrigues created a completely new grape variety named Cabernet Labrusco he took the pollen from an old vine planted in 1960. But discovering what variety it was turned out to be complicated so Jerry turned detective.
The Myth of Steen and Chenin Blanc


They say Steen is the name used in South Africa for Chenin Blanc in almost every article, news item and blog post about wine that you read. But that is just not true, says Peter F May. However the myth seems to be coming fact.
Top 5 American Red Wine Grapes


Little known outside America and generally looked down on by wine snobs, American vines play a valuable role in enabling wine to be made in regions not suitable for the European wine vine, Vitis Vinifera. Peter F May recommends 5 worthy of your attention.
Try These Less Common Wines


Time to try something new, says Peter F May. It's easy to stick with the same old wines and varieties, but wines change and so does ones palate.
Vine Wars


Grape vines can live for a hundred years - if they survive attacks from insects, viruses, and animals. And as grapes ripen the surrounding woods and hills are full of animal and birds who see them as dinner. Peter F May is just back from the front line.
Vines and Roses


There are good reasons why rose bushes are planted at the end of vine rows, Peter F May was told. But he wasn't convinced and a vineyard stroll threw new light on the matter.
Viognier Wine


Viognier is a fashionable white wine now, but not so long ago the variety has almost vanished. Peter F May tells how a very rare and obscure grape suddenly gained world-wide popularity.
What are Shiraz and Syrah?


Syrah and Shiraz wines have become very popular. Peter F May looks at why this grape has two names and questions if it comes from the Persian city of Shiraz.
What is Carmenere Wine?


Carmenere was lost and forgotten but now it's back. If you like Merlot you'll love Carmenere, says Peter F May.
What Is Malbec Wine?


Malbec has found fame and fortune in Argentina, a long way from its home in France where the traditional growers are taking notice.
What is Merlot?


Merlot is an important grape variety in Bordeaux and California. Peter F May looks at Merlot and discovers that it is much closer to Cabernet than just a blending partner.
What is Muscadet wine?


The most sea-food friendly wine is Muscadet. It's not so fashionable now but this French wine is worth looking for. So Peter F May wonders why only the French grow it.
What is Petite Sirah Wine


A traditional California grape variety fell out of fashion and almost vanished, then its fans went in to bat for it and showed it was of noble birth. Today Petite Sirah is riding high. Peter F May tells its story.
What is Phylloxera?


Phylloxera destroyed the words vineyards just over a hundred years ago. They all had to be replanted. The pest is as active today. Peter F May looks at the 'devastator' and how America gifted the world both the disease and its cure.
What is Pinot Grigio?


Pinot Grigio is a wine that has become very popular in recent years. Peter F May looks deeper into this grape variety
What is Vinifera?


'What is Vinifera' was the question posed at a recent tasting. Peter F May looks at grape species and explains why varieties of vinifera make the world's favourite wines.
Wine Grapes and Soil


Just as different flowers flourish under different growing conditions, so do grapes. There is an intregal relationship between soil and grape.
Editor's Picks Articles
Top Ten Articles
Previous Features
Site Map
Content copyright © 2018 by . All rights reserved.
This content was written by . If you wish to use this content in any manner, you need written permission.
Contact Peter F May for details.