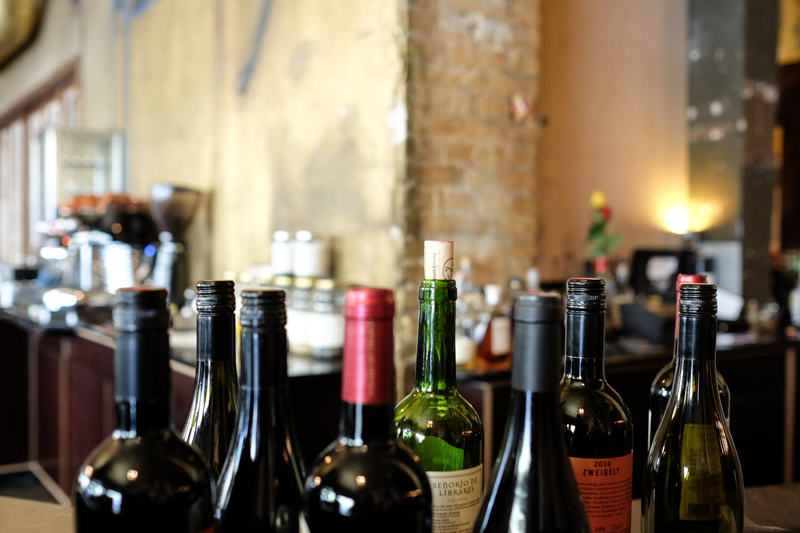 Many regions of the world produce their own unique wines.
Vigno is the name for Chile Old Vine Carignan


Chilean winemakers passionate about old dry-farmed Carignan are promoting their wines under the name VIGNO. Peter F May meets one of Vigno's winemakers and learns more.
Vin de Constance - From Dickens to Fifty Shades


Visitors to Klein Constantia are asking for 'the Fifty Shades wine'. The Fifty Shades trilogy isn't the first to mention Constantia's sweet wine. Dicken and Jane Austin also sang its praises, and it was a favourite of Kings and Emperors. Peter F May visited the winery to taste Vin de Constance.
Volcanic Wines from Lanzarote


In desert conditions and black volcanic ashes are some of the world's most unusual vineyards. Peter F May travelled to Lanzarote island to taste wines of the volcano.
1855 Classification of Medoc and Sauternes


You cannot talk about Bordeaux wines for long before there is a reference to the 1855 Classification. Peter F May lists the wines of the Medoc and Sauternes whose prices today are affected by a rating more than 150 years ago
5 Top Hawkes Bay NZ Winery Restaurants


A meal without wine is just re-fuelling the body. Peter F May recommends great winery restaurants in New Zealand's Hawke's Bay.
A Dozen French Wines


If you could drink wines from only one country which place would you choose? Peter F May suggests twelve from France
Adam Puchta Winery - Missouri


Adam Puchta and Sons Winery near Hermann, Missouri, make great Norton. Peter F May visited and met Tim Puchta, sixth generation owner of the oldest continuously owned family farm winery in the United States.
All About Rioja


Rioja's classic elegant wines are currently out of fashion and are thus well-priced. Peter F May looks at Spain's most famout wine region, one of the few in the world where the word 'reserve' means something.
Alsace Wine


Alsace is France's northernmost wine region. Alsace wine bottles are tall and thin and look Germanic yet they are not alike in taste. Peter F May stayed in Alsace and considers its history, location and wines.
Bar Harbor Cellars Blueberry Wine


Bar Harbor Cellars are growing wine grapes in the extreme cold of Mt Desert Island, Maine but their biggest success so far has been with local wild blueberries.
Beaujolais


Beaujolais is a soft easy drinking red wine from France. Most famous from Beaujolais Nouveau released in November, but if you trade up there are some much better Beaujolais wines.
Beaujolais Nouveau

Every November the new year's Beaujolais hits the marketplace, but does anyone care anymore? Peter F May looks at this once important event for wine lovers and the disastrous impact it has left.
Belgium

Wine information about and from Belgium.
Beyerskloof Winery, South Africa


Beyerskloof Winery specialises in South Africa's own variety Pinotage. Peter F May tastes a new wine and eats their signature Pinotage Burger.
Biltmore Estate, North Carolina


America's most visited winery isn't, as you'd expect, on the West Coast. Nor is it in New York, or Virginia. It is in North Carolina, but Peter F May was underwhelmed when he visited Biltmore Estate's Antler Hill winery in Asheville NC.
Bordeaux


Bordeaux wine region is the largest fine wine region in the world producing some of the most desirable collectable expensive wines at the same time as countless good drinking and reasonably priced quaffers. Peter F May considers Bordeaux.
Bordeaux River Cruising


River cruising has become very popular. Peter F May joins a new cruise that visits Bordeaux wine regions and focuses on wine.
Bordeaux Wine Futures


Visiting a winery to taste wines and yet there is none to buy? Peter F May looks at the Bordeaux system of wine futures.
Brancott Estate - New Zealand


Brancott Estate invented New Zealand's world-beating expressive Sauvignon Blanc Style. Peter F May visits them and sees how a rifle played its part in their success.
Burgundy, France


Burgundy is both the easiest wine region to understand and the hardest and its wines are both the world's most sublime and the most disappointing, says Peter F May.
California Wineries

Listings and reviews of wineries around the state.
Callaway Winery Temecula CA


When Peter F May visited Callaway Vineyards and Winery in 2002 it was the largest winery in in California's Temecula Valley. Now under private ownership it is a small boutique operation hand making quality wines. Peter took a tour.
Ch de Pizay, Morgon, France


Chateau de Pizay is a magnificent historic estate in Beaujolais, France, that houses a luxury hotel, spa and gourmet restaurant. However Peter F May was more interested in tasting the delicious wines they grow and make at he chateau.
Ch Mouton-Rothschild, Medoc, Bordeaux


Ch Mouton-Rothschild is one of the five 'First Growths' of the Medoc and one of the worlds most famous, most desired and most expensive wines. Peter F May pays a visit and tastes a sample from the barrel.
Ch Tour St Bonnet - Medoc, Bordeaux


Chateau Tour St Bonnet is in the Bordeaux Medoc appellation. Peter F May has been drinking its wine for many years and at last he visited the vineyards and winery.
Chablis - Chardonnay Personified


Chablis has 4,700 hectares (11,600 acres) of Chardonnay vineyards producing one of the worlds most famous white wines, yet many people haven't drunk the real thing. Peter F May went to the town of Chablis to taste and learn about Chablis.
Chateau Guiraud, Sauternes


Chateau Guiraud in Sauternes, south of Bordeaux was classified First Growth in 1855 and is a top producer of sweet wines. Peter F May paid a visit
Chateaunef-du-Pape


Chateauneuf-du-Pape is on Rhone river in the south of France, near the historic town of Avignon. Peter F May visited and was charmed by winemakers' shops in the old city. Luckily he had his credit card to hand.
Chianti Wine


Chianti is one of the great wine regions of the world, says Peter F May. Italy's most planted black grape variety is Sangiovese and in Chianti it is king.
Church Road Winery, Hawkes Bay, New Zealand


Church Road Winery has been in the same location for more than 120 years. It gained a good reputation for red wines. Peter F May toured the cellars and tasted its wines.
Cite du Vin - Bordeaux's New Wine Attraction


La Cité du Vin in Bordeaux, France is a fun cultural centre celebrating all aspects of wine. Its permanent exhibition has superb state of the art interactive displays with translations into 10 languages via a small computer and headphones.
Cognac


Cognac is one of the greatest brandies in the world, says Peter F May. But it starts life as basic wine made from unfashionable varieties.
Domaine de la Madone, Fleurie, Beaujolais


Beaujolais is a compact wine region divided into ten wine appellations. Peter F may travelled the short distance from Ch de Pizay in Morgon to Domaine de la Madone in Fleurie and found despite their proximity the wines were distinctly different.
Dry Comal Creek Winery, Texas


When adversity strikes, does a Texan give up? No, he finds an advantage and grows stronger than before. Peter F May visits Dry Comal Creek that came back from wipeout with a new and unique focus.
Florida Wine


Will Florida be the next fashionable wine producing area? Peter F May doesn't think so. Florida has a lot going for it but is struggling to make great wines.
France's Wine Regions


Each region of France stamps its character into its wine.
French Red Wine Decoder


Will you be travelling to France? Few French wines name a grape variety on the label, and restaurants list wines by region rather than varietal. Peter F May's handy chart helps you find the red varieties you want when in France
Frithsden Vineyard - England


There are more that 100 wineries and 400 vineyards in England. Peter F May visits a small boutique winery in Frithsden, close to London, and learned that mediaeval farmers knew what the owner discovered the hard way.
Germany

Information about German wines and wineries.
Glenelly Estate, Stellenbosch


When a widow in her seventies sells up, few travel 12,000 miles to start a brand new vineyard and winery in a new country. But Madam May de Lencquesaing is no ordinary woman. Peter F May visits her new estate and tastes her wines.
Les Bourgeois winery - Missouri


Les Bourgeois winery, Missouri, is located on the banks of the Missouri River where they grow Norton and other American and hybrid grapes. Peter F May went to taste their Norton and stayed for a delightful lunch at the cliff top bistro with stunning views along the Missouri.
Mission Estate, Hawkes Bay, New Zealand


Mission Estate Winery tasting rooms are housed in a historic mansion that took an unexpected journey. Peter F May visits to taste wines of this 160 year old wine farm owned by Catholic monks.
Mission Hill Winery - Okanagan


Mission Hill Winery in western Canada's Okanagan Valley was named 2011 Winery of the Year in the InterVin International Wine Awards. Peter F May was one of the 100,000 visitors who come very year to taste wine, admire its architecture and views.
New Jersey


The Garden State offers a wide variety of wineries and wine experiences.
New Mexico


The US´ oldest wine area.
New York


New York has spent the past decades building it´s wineries.
New Zealand North Island Wines


The second edition of Johnson's 'World Atlas of Wine' published in 1977 doesn't even mention New Zealand. Nowadays very few restaurants and wine shops don't carry its wines. Peter F May looks at how this remote island's wines gained world fame.
New Zealand South Island Wines


The first Sauvignon Blanc vines were planted in Marlborough on New Zealand's South Island in 1975. Within 10 years they were winning international acclaim and many now think of them as the standard for the variety. Peter F May looks at how an island thought too cold for vines became a world beater.
North Carolina Wines


With 75 wineries opening in a decade, bringing to total to more than 100, North Carolina is hoping to be as famous for its wine as it was for growing tobacco. Peter F May pays a visit to this exciting new wine region.
Okanagan Ice-Wine at Inniskillin


I am a devotee of ice-wine. I love its unctuous sweetness while appreciating the difficulty under which it is produced and that because of its expense it must be a special occasion when I am drinking it. So how could I miss an ice-wine vineyard tour and tasting? Peter F May visits Inniskillin's Oka
Okanagan's Indian Wines


Okanagan Valley in western Canada is home to around 200 wineries and some of the best of them are located on an Indian reservation. Peter F May visits the North America's only winery owned by aboriginal peoples.
Oregon


"Visiting an Oregon farm or winery presents a unique experience that reflects the personality and style of its owners. Most are family owned and delight in sharing their love of Oregon´s agriculture culture and lifestyle with visitors."
Port


Portugal has given the world a great gift with Port wine. Peter F May looks at discusses this iconic wine.
Port - the wine of Portugal


Port wine takes its name from the city that exported it. Peter F May visits Oporto and the Sandeman Port Cellars
Portugal's Quinta da Pacheca winery


Peter F May visits the home of Port wine in Portugal and tastes the wines of Quinta da Pacheca
Raffaldini Vineyards, North Carolina


Ray Raffaldini and his family have brought centuries old winemaking traditions from Italy to the rolling hills of North Carolina. Peter F May visited 'Chianti in the Carolinas'
RayLen Vineyards and Winery, North Carolina


RayLen Vineyards and Winery in Mocksville, North Carolina, is majoring on the red Bordeaux varieties. Peter F May is impressed by their wines
Retsina


Greek Retsina wine is made in a style that dates back more than 2000 years and Peter F May is a devoted fan.
Rioja Wine Region


Rioja is the classic Spanish wine region producing subtle complex red wines that are aged before sale. Peter F May recently visited the region.
Robbler Vineyards, Hermann, Missouri


Robller Vineyards is a small family owned and operated wine estate just outside New Haven, on the south bank of the Missouri River between Washington and Hermann, Missouri. Peter F May visited to taste and learn about Missouri's State Grape -- Norton.
Robert Blanck Winery - Alsace


Robert Blanck is the owner and winemaker of a small family estate winery in Alsace, France. Peter F May paid a visit.
Sancerre's Sauvignon Blanc


Sancerre is a town on the River Loire and the name of a wine region famous for some of France's best Sauvignon Blanc. Peter F May starts his Loire visit in the town of Sancerre and visits winemaker Henri Bourgeois.
Seifried Estate - New Zealand


Herman and Agnes Seifried created the first vineyard and winery on the South Island of New Zealand. Peter F May met them at a tasting in his home town and heard how an Austrian boy met a New Zealander girl and made a pioneering winery together.
Shadow Springs Vineyard, North Carolina


Shadow Springs Vineyard in Hamptonville, North Carolina was a tobacco farm until new owners Chuck and Jamey Johnson started planting grapes in 2005. Peter F May visits to taste red wines, but one has a surprise ingredient.
Silkbush Mountain Vineyards


An American owned wine farm in South Africa with a reputation for the quality of its grapes is now producing its own wine which is served on American Airlines Business Class and a luxury cruise liner. Peter F May visited Silkbush Mountain Vineyards.
Sizanani Wines Uplifts Farmworkers


Sizanani Wines is a South African Black Economic Empowerment brand owned by winery farm workers. Peter F May heard the details from managing director Randall Peceur.
South Africa - 350 Years of Winemaking


South Africa celebrated its 350 years of making wine in February 2009. Peter F May looks at this old-new world wine region.
Spanish Wine Classifications


Spain takes wine seriously. Examine the classifications of Spanish wine to help you make a selection.
Spier Wine Farm


A day isn't enough to see all the attractions at Spier Wine farm, near Cape Town, South Africa. Peter F May tries to count them all.
St James Winery - Missouri


St James Winery is one of the largest and most modern in Missouri and make a wide range of grape and fruit wines to suit all tastes. Peter F May visited to taste their Nortons and also fell for their sweet blackberry wine.
Steep Slopes Make Memorable Riesling


A river cruise from Budapest,Hungary to Amsterdam,Netherlands took Peter F May down the Rhine past the Mosel. He went along the Mosel to see some of the world's steepest vineyards and to taste the Riesling wines they produce.
Sunset Winery, Texas


Sunset Winery is a small family owned winery and vineyard near Fort Worth in Texas. Peter F May called in to taste wines made from Texas's own Black Spanish variety.
Tasting Adam Puchta Missouri Nortons


Tim Puchta is the six-generation owner of Adam Puchta & Sons Winery in Hermann, Missouri, the oldest continuously owned family farm winery in the United States. Peter F May visited to taste Norton
Tasting Terroir in the Loire


Domaine du Closel - Chateau des Vaults is a female run winery in Savennières in the Loire valley, France. Peter F May meets owner-winemaker Vicomtesse Evelyne de Pontbriand and learns why it is not necessary to name the grape variety on a wine label.
Ten Missouri Wine Facts


Missouri wines are popular in the State but rarely seen elsewhere. Peter F May visited wineries there and drank Missouri wines everyday for two weeks. Along the way he picked up ten facts.
Tennessee


Yes Tennesse!
The Bordeaux Classification


Why is a 150 year old list of wines important today? Peter F May looks at how wine prices and status continue to reflect long ago opinions.
The Grapes of the New York Finger Lakes


Finger Lakes wine region is a happy hunting ground for those who want to taste a lot of different grape varieties. Peter F May is a fan.
The Wines of Bordeaux


The vineyards around the French city of Bordeaux are the home of some of the most famous and expensive wines in the world. Peter F May visits Bordeaux.
Troglodyte Domaine Filliatreau, Loire


There are troglodytes living along the Loire. Peter F May visits Domaine Filliatreau a winery in caves hollowed out from a cliff
Vermouth


Discover vermouth and the museum that celebrates this creation.
Vinho Verde - fresh young wine of Portugal


Vinho Verde is a young fresh light wine from Northern Portugal. Peter F May returned from Portugal a fan of this quaffable 'green' wine.
Virginia


Virginia is for wine lovers.
Visiting Alsace


Alsace, home of white wines in tall thin bottles. Peter F May travels the wine route.
Visiting Chrysalis Vineyards, Virginia


Peter F May visits the world's largest Norton plantings at Chrysalis Vineyards in Virginia and meets its charismatic owner, Jenni McCloud. Jenni has a new tasting room and shares her vision for developing a complemenatry farm around the winery
Visiting the Loire


The Loire is the third most important wine region in France. Peter F May visited this land of fairy tale castles and many wines.
What Does Grand Vin de Bordeaux Mean?


Grand Vin de Bordeaux , Grand , Vin , Bordeaux, mean , meaning , 1855 , classification ,
What Next for New Zealand?


New Zealand is famed for its zingy grassy Sauvignon Blanc. But is it wise to be reliant on a single variety?
WIne and Goats at Fairview


Fairview wine farm,near Cape Town, South Africa, is popular with visitors and not just for its wines, says Peter F May.
Wine in Thailand


The industry is less than twenty years old and conditions are not ideal but enthusiasts are growing and making other wines in Thailand which you may see them on the list of your local Thai restaurant.
Wine Tasting at Chrysalis Vineyards, Virginia


After visiting the world's largest Norton plantings at Virginia's Chrysalis Vineyards in company of owner Jenni McCloud Peter F May tastes a range of Chrysalis wines at their just opened new tasting centre.
Yealands Estate, Marlborough, New Zealand


Yealands Estate is the largest privately owned vineyard in New Zealand and also the most sustainable. Peter F May visited and found dwarf sheep, musical vineyards and carbon neutral winery
Editor's Picks Articles
Top Ten Articles
Previous Features
Site Map
Content copyright © 2018 by . All rights reserved.
This content was written by . If you wish to use this content in any manner, you need written permission.
Contact Peter F May for details.